Smoke plume from the North Star fire, 2015. Photo: Rachel McClure, Okanogan Conservation District
Rachel McClure is the 4th generation on her family's ranch near Nespelem, Washington. She graduated from Washington State University in 2017 with a B.S. in Agricultural Economics. After a summer internship with the Okanogan Conservation District, she agreed to stick around as a Natural Resources Technician. She also shears sheep, tells funny stories, and likes to speak in accents.
As soon as we saw the plume of smoke in the mountains north of home, I knew the fire would eventually come our way. We live at the base of the foothills leading to Moses Mountain, surrounded by trees. The burning event that became known as the North Star Fire started a mere two miles from our family's homestead built in 1917 and ten miles from our home place.
Within twenty-four hours I had cut short my summer job at the Grand Coulee Dam to help my family prepare for the coming disaster. Our land management over the years had minimized the brush cover around the place using sheep, and the trees near home were all limbed and well-spaced. Still, we needed to do more yard work in four days than had been done in the previous four years: moving firewood piles away from the structures, covering the haystacks with tarps to try to keep embers out, and watering the lawns and pastures surrounding the ranch. We moved two of our horses thirty miles away past Electric City and the rest to the property we owned by the Columbia River. As dry as August of 2015 was, I worried that that wasn't far enough away. Just how far could the embers travel? How big was this fire going to get?
There was an anxious energy we all felt. We almost wished the fire would just get there already. Let's get this over with! As the hours passed the smoke thickened the air, our dread and anticipation were palpable. On the fourth day, as I stood on the north side of our old red hay barn spraying down the boards with a garden hose, I heard it. The sound was like a freight train barreling through the woods. I turned and saw the pines backlit with a sunset-like light, a glowing pink orange. It took a few moments to recognize that I wasn't seeing the sunset, but the reflection of the fire roaring towards the ranch.
There are no words to describe what I felt gazing at that horizon. The best I can say is I felt small. So very small and insignificant, knowing that there was nothing any human could do to slow what was coming. It was the most humbling feeling I have ever experienced. With that much light in the skyline, I knew the fire was in the treetops fueled by the thirty mile an hour wind blowing towards us. I can remember looking at the hose in my hand and saying aloud, "This isn't going to do s***!".The next couple hours passed in a blur. By the time Mom and I left with our cars full of important things and our dogs and cats, there were more firefighters and equipment waiting at the ranch. I worried that those firetrucks would be about as effective as that garden hose if the fire stayed in the tree canopy. Not long after we arrived at our friends' house in Elmer City, Dad called to say the wind had died down about a half hour after we left and the fire was on the ground. The next morning, Mom and I loaded up the animals and went home. To this day I know leaving was the smart thing but a part of me feels guilty for doing so.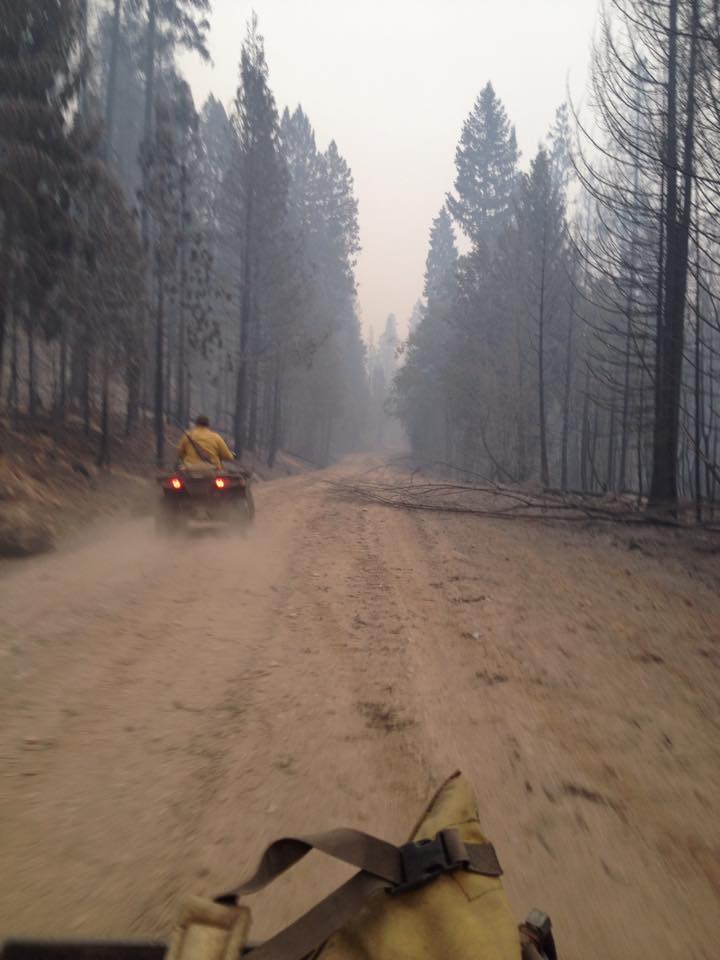 The fire grounded itself about half a mile from the house. It jumped the dirt road early the next morning, but was only slowly creeping through the forest litter. Our guys went out with water backpacks and shovels to keep the fire at bay, helped by the arrival of a bulldozer from the fire camp. At one point, a Forest Service rig driven by a hoodie-clad firefighter pulled up and tried to tell them that they weren't allowed to be out there fighting the fire as they weren't "properly equipped". They simply looked at the guy and said, "We've been out here since before you got up this morning." He wasn't going to bully them out of defending our property. He went down the road to try the same tack with my dad and was equally unsuccessful. Later that week, Dad also had to forcibly redirect a fire crew that wanted to set a back burn right next to our house.
Rounding up our cattle etched images forever in my mind. We rode through smoke and charred ground, around logs that still simmered, and creeping lines of fire. As we drove the cattle toward the corrals, our biggest worry was that they would take off through the already burned ground where hot ash and root holes full of embers could burn their feet and legs. My brother named these treacherous pits "dragon tracks". I will always remember one old girl that was black with a white face. A fiery wind must have blown past her at some point: her right ear and ear tag were folded in a precise ninety degree angle. As horrible as this was, we were lucky to only lose a few animals. Neighbors and fellow cattlemen lost anywhere from thirty to fifty head. We didn't lose our home or barns or hay. Many people did. During this fire, we received help and support from so many people. Firefighters, family, and friends all played a role in helping us through this natural disast.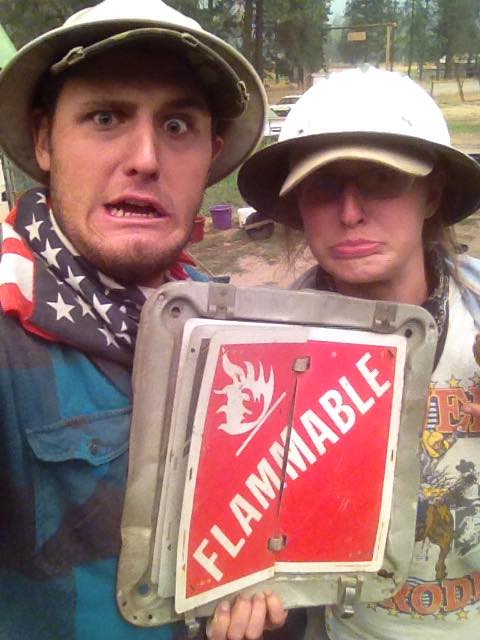 The North Star Fire will have an impact on my family for generations to come. The land will bear the scars of it visibly for many years. We are going to be avoiding cooled dragon tracks for a long time. The people affected bear emotional trauma that's less visible. In my senior year at college, I took an environmental science class that discussed many challenges we face in the world. As soon as the section on wildfires came up, I had a physical reaction to it. My heartbeat accelerated, I was antsy and an anger simmered in me. It surprised me how just discussing fires made me react so much. I am sure those who lost homes and livelihoods in these have even stronger emotions and reactions.
In sharing my experiences with you I hope to encourage you to prepare for fire. We live in an area naturally prone to burn. My family wouldn't have fared as well as we did without the land practices my grandfather instilled in us. Fire is an ever-present threat that is best faced with preparation. Resources and information are available to you. Since the North Star Fire, we have cleared even more brush from around our home, made an evacuation plan for our livestock, and both my brother and I intend to certify as wildland fire fighters.
To the powers that be, I would like to reinforce that those of us that have gone through these fires still feel a sense of frustration and anger at how things are managed when these fires happen. That could take another three pages to explain so I will refrain from elaborating. I would encourage the agencies involved to further their efforts to work together. Call on the local resources that are available, train landowners to assist with their own equipment, and then let them work. Homes and buildings are important but don't underestimate the importance of rangeland and forest land. Fire is going to be ever more present in the coming years. Prepare for that.
er. I can't thank them enough.