Prescribed fire smoke near the Lake Wenatchee area. Credit: Wenatchee River Ranger District, Okanogan-Wenatchee National Forest
In 2016, the Washington State Legislature passed the Forest Resiliency Burning Pilot, ESHB 2928, a bill that supported a pilot to evaluate and monitor the effects of forest resiliency burning. Washington Department of Natural Resources, North-Central Washington Forest Health Collaborative (NCWFHC), Northeast Washington Forestry Coalition, Tapash Sustainable Forest Collaborative, and the Washington Prescribed Fire Council (WPFC) completed the project. Four main components were identified for implementation: controlled burning, monitoring fire effects on vegetation, air quality monitoring, and performing prescribed fire outreach, including tracking public feedback and inquiries.
This blog is an interview with Hilary Lundgren, former executive director of the Chumstick Wildfire Stewardship Coalition (CWSC) and Kirsten Cook, community outreach director of the Okanogan Conservation District (Okanogan CD). Both the CWSC and the Okanogan CD are members of the NCWFHC, FAC Net and the Washington State Fire Adapted Communities Learning Network (WAFAC).
How did you get involved in the Forest Resiliency Burning Pilot Project (ESHB 2928)?
Hilary: During the initial NCWFHC "How is this going to get done?" meeting, NCWFHC asked CWSC, Cascadia Conservation District and Okanogan CD to lead the prescribed fire outreach efforts in north-central Washington because of their deep relationships with the local communities, connections with FAC Net and WAFAC, and their other regional partnerships.
Kirsten: Hilary Lundgren roped me in!
Why did you feel that the project was important?
Hilary: At the 2015 CWSC Annual Retreat, the steering committee identified prescribed fire and supporting the work of the Wenatchee River Ranger District of the Okanogan-Wenatchee National Forest as a top priority. The local work of the Forest has always been at the forefront of CWSC's vision to create a community and landscape more fire adapted. At the time, we really had no idea how we were going to engage and support the Forest in their work, or where to start in tackling this socially complex topic. Six months later, ESHB was passed, opportunity struck, and we were ready to bring CWSC's vision into reality.
Kirsten: WAFAC had been talking a lot about the role of prescribed fire, and I had a chance to hear about prescribed fire from FAC Net folks during the Pacific Northwest FAC Learning Exchange in 2016, so it was at the forefront of my mind. Given our experiences with back-to-back years of megafires in Okanogan County, and the stories I heard from firefighters about fire behavior in areas treated with prescribed fire, it was a natural extension of the work we were already doing on wildfire preparedness and recovery.
What did you do? Why did you decide to take those specific actions/activities?
Hilary: We did A LOT in one year.
Outreach and communication strategies were developed as a result of a community needs assessment and discussions at stakeholders meetings. Activities sought to address community concerns, provide forums for community engagement and feedback, and notify communities of upcoming burn sites in the most effective way possible.
Kirsten: I pretty much copied CWSC's "homework." It's good stuff — why reinvent the wheel? My goal was to amplify the Methow Valley Ranger District of the Okanogan-Wenatchee National Forest's efforts to notify the community, and to build a greater understanding of the "why" and "how" regarding prescribed fire. They were undergoing personnel changes during this time, so I think it was crucial for them to get support from Okanogan CD and Methow Conservancy, another local partner engaged in the project. Thankfully, Hilary and the CWSC made my role easier by providing great templates for outreach mailers and piloting the "Era of Megafires" presentations. It was easy to adapt those products for our audiences.
How does your community feel about prescribed fire and smoke?
Hilary: In general, the community understands that prescribed fires occur, but they don't always understand why or how. Specifically, there can be a disconnect regarding the process of controlled burning and how practitioners can put fire on the ground in a safe and "controlled" manner.
Kirsten: I think people are both supportive and apprehensive when it comes to prescribed fire and smoke. Many people "get it," but at the same time, have varying levels of trust that prescribed fire practitioners will do it right, i.e., the burn will have minimal negative impacts.
Describe two of your prescribed fire outreach successes.
Hilary: Two highlights from this project:
(1) Working with non-traditional and/or no n-fire centric partners, such as the Lion's Club, local health organizations and districts, school districts and businesses. They were instrumental in helping to develop digestible messages, informing the community, and keeping a pulse on the community's response to changes in air quality and burn operations. Everyone can be a voice for this work.
(2) Our local assistant fire management officer at the Wenatchee River Ranger District, Mike Barajas, inspired us to implement a prescribed fire outreach mailer campaign. A series of flyers were sent to residents with key themes, messages and calls to action. A key success from these mailers was incorporating a QR code that linked users to an interactive map created by Mike and his team. The map showed the location of the planned prescribed burn units, anticipated smoke dispersion areas, and before and after photos of the project area. The map data gave us the opportunity to correlate outreach efforts based on the audience's interests and usage. As a result, the Okanogan-Wenatchee National Forest now has a forest-wide interactive map!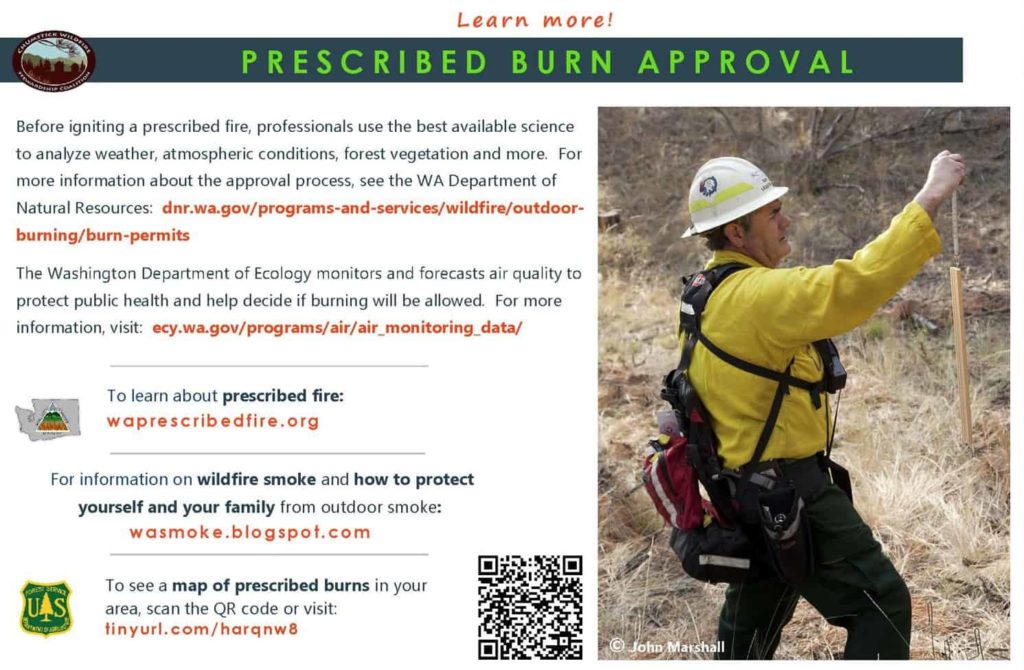 Kirsten: One highlight was the field tour that the Methow Conservancy coordinated with the Methow Ranger District. It received good press coverage in both the local and regional newspapers and was a concrete example of how District staff could use local partners to further their mission.
I was also pleasantly surprised by the strong attendance we had at the Nespelem and Omak "Era of Megafires" presentations. It is notoriously difficult to get people in Okanogan County (outside of the Methow Valley) to come to these types of events, so having nearly 100 people at each one was really something. The questions asked by the audience also told me that we have a community that is already thinking about forest management, including prescribed fire, and that it is anxious for public and absentee private landowners to deal with problematic forest conditions.
What was the most surprising thing that you learned about your community during this project?
Hilary: The community wants to trust fire practitioners and land managers, and they are looking to them for help creating healthier forests and safer communities. This project gave us the opportunity to put several faces to this work and to develop individual connections between community members and fire practitioners, and between the community and the land. However, in our community, there is still a need to tell the whole story: Why do we thin? Why do we burn? Why are we doing this work here and not there? When are we going to be done?
Kirsten: I found the comments regarding native burning practices that came up during the discussion following one of the "Era of Megafires" events fascinating. The topic was delivered with force, and detail, from a woman in her 80's. Cultural burning is not often brought up in rooms full of mostly white fire practitioners, and it is only mentioned briefly in the presentation. It struck me as emblematic of the lost history and unheard voices of American Indians and women.
Planned fire is clearly not a new idea, but it is certainly complicated by the number of people living in the wildland-urban interface these days.
Moving Forward
The implementation of the Forest Resiliency Burning Pilot (ESHB 2928) occurred at the state, regional and community level. This is the first blog in a three-part series. Keep an eye on the WAFAC blog for future posts regarding regional and state perspectives, as well as the outcomes of this project, following a report that will be sent to state entities.