Planting the Seeds of Firewise
Written by:  Andrea Ely, Yakima County Fire Marshal's Office
The Yakima Valley is mostly known for its agricultural gems of vineyards, hops, and produce.  The stewardship of surrounding farmland translates to our valley's urban areas.  At the Yakima Area Arboretum's Annual Arbor Fest, The City of Yakima received its very first Tree City USA Award from the National Arbor Day Foundation. The award celebrates Yakima's amazing staff and community volunteers dedicating months of their time and effort to protect, cultivate and maintain urban forest areas.   This year's theme was TREES and was appropriately titled "Trees Are the Best!"  Our Yakima Valley Fire Adapted Communities Coalition (YVFACC) took the opportunity to partake in this celebration and planted some Firewise seeds in an existing healthy forest movement.
Any time that you are preparing for an event such as Arbor Fest, which hosts approximately 2,000 visitors ranging in age and cultural diversity, planning and incorporating fire adapted community concepts can be a bit tricky.  Fortunately, the seeds for the YVFACC were planted years ago, and plans, relationships, and actions have been cultivated along the way.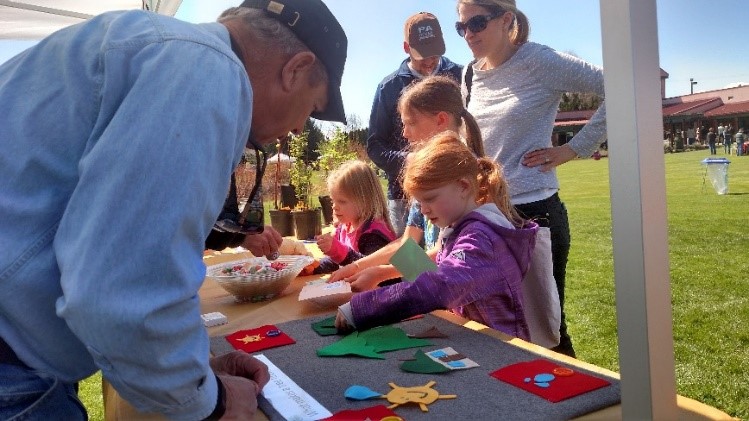 During the festival, kids are given an Arbor Fest passport that is stamped after the completion of an activity at each booth. (This helped tremendously for encouraging visitors to stop by!)  With only one to two minutes for audience engagement, YVFACC and partners introduced basic Firewise landscaping principles through a "What Makes a Healthy Firewise Tree?" activity.  This activity prompted participants to build a Firewise tree using four felt cut-outs: (1) sunshine (2) water (3) tree placement (i.e., planting the tree away from structures), and (4) trimming or pruning trees.  We found that this hands-on experiential activity targeting kids, also served to engage adults.  Parents and family members couldn't resist helping children place Firewise cut-outs in the right place, which gave us an opportunity to explain that applying Firewise techniques can help keep unwanted wildfire from harming us or our homes.  Presenting this concept to a person holding a potted tree, donated by the North Yakima Conservation District, was more than just ideal timing.
We can't credit all the success with just one hands-on felt activity.  Our fire adapted community partners were a key factor in reaching an extremely varied audience. There was not only something for everyone at our booth, there was someone for every topic with a perfect balance of expertise:  the Joint Base Lewis-McChord Yakima Training Center staff came with their beautiful, shiny, red brush truck; Smokey Bear gave lots of hugs and the Washington Department of Natural Resources helped by passing out goodies; and two Firewise Community homeowners, Gary Jackson and Paul Jenkins, engaged in Firewise discussions and led kids activities.  For the 2,000 people that wandered to our booth, we provided learning activities that in-turn granted us opportunities to hopefully inspire action.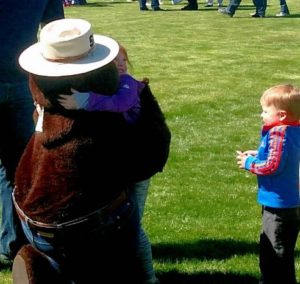 Measuring the impact of an event like this can be difficult. We knew we couldn't base our success on a measurable objective such as the creation of a new Firewise Community, but we were able to demonstrate how working together with our community, each of us can be the seeds that can grow, form, and shape a fire adapted community – a important reminder that planting the first seeds of fire adaptation should be your very own.
Resources: