Author:  Rose Shriner, Kittitas County Conservation District
Geographic Information Systems (GIS) can be intimidating. We all know how to use maps in a directional sense — I use them all the time when I travel to conferences, meetings and proving to my friends that I was right about that one turn. How does GIS translate to wildfires? Operationally, every wildfire uses GIS to collect data, distribute information with stakeholders and the public.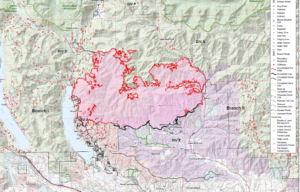 During the Jolly Mountain Fire, GIS was used at the Incident Command for the fire operations, and in turn the local Sheriff's office would use the information to create interactive evacuation level maps for the public. Those maps enabled out of area homeowners with recreational cabins and second homes to remotely find their property by entering their address and receiving evacuation information.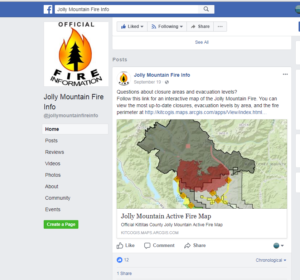 I have been exposed to a variety of GIS platforms during my academic enrollment at the University of Washington. This exposure made me familiar with ESRI Story Maps. Story Maps enable stories to be told thru maps, photographs and video in an interactive setting, giving the audience a more dynamic experience to understand these tangible and not so tangible concepts.The Natural Resource Conservation Service has a weekly newsletter called #fridaysonthefarm, and the Conservation District Manager joked that we need to do #wednesdaysinthewui.
In the fall of 2017, #wednesdaysinthewui  was launched to tell the story of our communities fire adaptation work, share information provided by the Fire Learning Network, and answer common questions, such as:  "What is Firewise? What can I do to become more fire adapted?".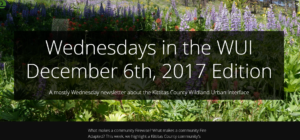 GIS is ingrained into our everyday lives whether we are cognizant of it or not. If you have had a package delivered, if you have been evacuated, if you were lost and used Google Maps — all are ways GIS is used every day. GIS is a system to analyze, interpret and visualize spatial relationships, let's tell the spatial story about the relationships of why it matters where we live and the choices we make now impact the future — future generations, future landscapes and future fire adapted communities.